The Power of Lightning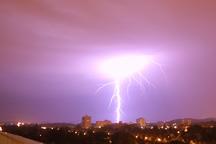 Did anyone else happen to catch that vicious, vicious lightning storm last night? It was so loud and so bright that I jumped out of bed. I had the TV and VCR on, and turned both off (I usually don't). I laid in my bed with my light on and my flashlight clutched should I need it. And I cried. Seriously, it was that scary. I thought the large tree outside my window was getting it for sure.
And I prayed for the first time in years. Yet — amazingly — no power was lost through the whole storm.