EC Dub Review
Tonight I was watching wrestling on tv. I am about to make a huge personal announcement / plug and that will explain why. Anyway, I decided to throw up my recap on this site.
(WW)ECW on SciFi
July 11, 2006
[A recap is shown of the Big Show beating Rob Van Dam for the ECW title last week as the "Mad Genius" Paul Heyman turned on his champion. The REAL reason is because RVD has been suspended for 30 days for getting caught with pot.]

Enter "Extreme Judas" Paul Heyman. He claims he is a martyr and he had to get rid of RVD before the fans destroyed him. Says ECW is stamped on his soul. Says he will bring ECW to the promised land, and bring the fans with him.
Confronted backstage by Tommy Dreamer. He asks for an explanation, but Heyman doesn't have time. Dreamer's match is next.
Tommy Dreamer vs. Test
NOT an extreme rules match lol? So basically, ECW now has disqualifications.
Yeah, these guys fought dozens of times on Raw, but now this qualifies as an EXTREMELY intriguing matchup. Test beat Al Snow in his debut last week, another under whelming rematch from the good old WWE Attitude days.
Test rolls up Dreamer for the win. I'll tell you, since ECW relaunched a month ago, they've done nothing but bury the originals.
Ariel the Tarot Card Reader
Oh god, SciFi channel sucks.
She wants to know what the future holds for ECW. The future apparently holds blood. Then a vampire – formerly Mordecai – comes out and spits blood at the camera. And I feel like I've been raped.
Enter and Dance Candice the Playmate and Kelly the Stripper.
Vince McMahon's vision for ECW is to have an X-rated Smackdown.
Fortunately Mike Knox – Kelly's boyfriend comes out and stops her. Then the Sandman stands there and points the cane at him like Puss in Boots. Hey then beats him unmercifully about the face and body.
Why can't they spring for the rights to Metallica already?
CM Punk
Talks about tattoos. He has a reason for them. That's good to know. He's a bigger airhead than Maria the micstand, his girlfriend on Raw.
Sabu vs. Justin Credible
Credible probably lost three times in his whole first run in ECW. And now I'm not sure he's gotten in more than a minute's worth of offense in about a month.
Joey Styles doesn't understand why they are using weapons!?! THIS IS NOT AN EXTREME RULES MATCH.
Dude, they didn't need to declare every match as an EXTREME RULES or non-EXTREME RULES match before.
But hey, Credible just got the win because Sabu put him through a table. Hmm. I'm remembering Sabu's match on WCW Nitro about 11 years ago. He lost every match by disqualification when they actually have rules. I think he doesn't remember it or something.
Balls Mahoney Introduces Himself
He says he's nuts. I agree.
Ric Flair Introduces Himself
You heard that right.
And he's in ECW.
And he said he's going to eat the Big Show tonight.
Shannon Moore is back. And I have to find a picture. HE looks nothing like before because he's on drugs now.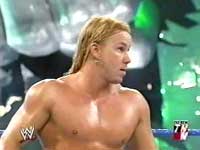 ECW Championship
Ric Flair vs. The Big Show
Makes sense…THIS MATCH is under Extreme Rules. And Taz tells us he's down with this match.
Flair bled a whole lot. I miss when he used to bleed every match. Then again, he used one of those fake barbed wire baseball bats as well. Then thumbtacks. I don't know if this is supposed to be funny, but this is my favorite Ric Flair match in years.
Then The Big Slob choked him out. And threw him into the tacks.
NOW THAT…IS EXTREME.
EC'DUB
EC'DUB
SEE YOU GUYS NEXT WEEK.